New WhatsApp call fraud –  International calls from unknown numbers
This article talks about the new WhatsApp International calls cyber frauds. It explains the different types of frauds, how its done, how to protect oneself from it and next steps.
WhatsApp call fraud is making lots of news recently. This is a very specific case of the previously discussed online jobs scam which had made lots of news recently and is related to cybercriminals using anonymous Whatsapp international calls facility. Some of you may have received Whatsapp calls or messages from numbers belonging to Ethiopia (+251), Malaysia (+60), Vietnam (+84), Indonesia (+62), Kenya (+254) and several other countries, where they give you some job offers or send you messages containing a hyper link, pressing which may infect your phone or computer with a virus. Government has issued a notice to WhatsApp and WhatsApp also has tweaked its program to reduce such calls.
How WhatsApp call fraud is carried out :-
You get a call or a message on your WhatsApp from an International number, you answer it or respond to the message that you are interested. Person on the other side makes a online job offer involving simple online tasks involving couple of hours work with high earning potential, which may be related to liking and writing positive reviews for youtube videos or to businesses on google maps app and they will provide the links to those videos and also pay rupees 50 per task, to get your trust they first give you three simple tasks and also pay money for the tasks completed, then they ask you to join a telegram channel where once they gain your confidence they will try to get confidential information like aadhaar or PAN or bank account details from you or make you click on a link or install a App on your smartphone through which they hack your phone or computer and commit financial frauds. By the time you realize it's a scam, you've already transferred a lot of money or information to the scamster.
How you can protect yourself from WhatsApp call fraud :-
Ignore or reject calls from unknown international numbers.
If the messages from unkown numbers talks about any online part time job offer, Ignore them.
Never click on hyperlinks in any messages from unknown numbers
Never install any apps obtained as Apks and install apps from Google playstore or Apple store which has good rating and comments.
Never share your confidential information like aadhaar or pan details or bank information with anybody unless its absolutely needed, instead share your voter Id or driving license for verification.
If the job offer is full of common spelling and grammar errors, then it may be a fraud offer.
Be wary of unbelievable salary offers for the work involved.
Be careful if there are things like 'no job experience required' or 'no interview required'.
Block the number on WhatsApp App by clicking on "i" and selecting either Block or Report that number or both.
If you have been scammed by WhatsApp call fraud:-
Immediately call 1930 cyber helpline or file a complaint at cybercrime.gov.in. If you have shared Aadhaar with someone, lock your Aadhaar card at uidai.gov.in. Block and Report the number in WhatsApp app. Call the concerned bank and lodge a complaint to freeze the funds. If you had clicked on the hyperlink in the message, then your device may be infected with software virus, please either run antivirus or format or factory reset the device.
Remedies available to WhatsApp call fraud victim legally :-
One can register a criminal case in cyber police station under :
section 419 (punishment for cheating by impersonation), 420 (cheating and dishonestly inducing delivery of property), 464 (make a false document or false electronic record) and 465(Punishment for forgery) of Indian Penal Code(IPC)
section 43 (Penalty and compensation for damage to computer, computer system, etc), section 66 (punishment for computer related offences – a person committing data theft, transmitting virus into a system, destroying data, hacking, or denying access to the computer or network to an authorized person is imprisoned for a maximum of 3 years or a fine of 5 lakh rupees or both), section 66C(which prescribes penalties for identity theft and states that anyone who fraudulently or dishonestly uses a person's identity information will be subject to imprisonment up to 3 years and a fine of up to 3 lakh rupees) and Section 66D (punishment for fraud by impersonation using computer resources) under of the Information Technology Act(IT) Act 2000.
Frequently Asked Questions :-
How do I report or block a scammer on WhatsApp?
You can report caller or block a sender within WhatsApp, by clicking on the caller in call list and click "i" and then select either block or report the caller option at the bottom.
How do I know if I am getting a local or a International call in WhatsApp?
Calls within India are suffixed by +91, which is India's telecom country code, any call with a different prefix will be an International call.
Can I block all International calls in WhatsApp?
There is no such option available currently with WhatsApp to block International calls or calls from unknown numbers.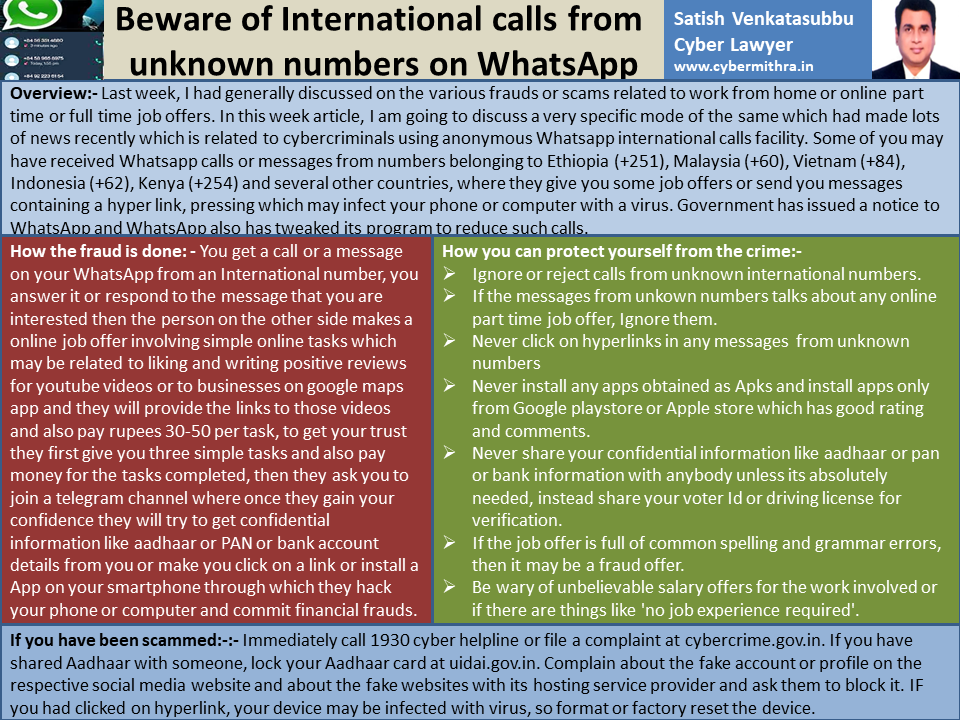 If you find this useful, please like it and share, also if you have any questions or topics you want me to cover please add them in the comments section. Also you can share one page poster covering the entire content with your friends and relatives in other social media.