Beware of these Work From Home or Part time or Online Jobs fraud
This article talks about Online jobs fraud cyber frauds. It explains the different types of frauds, how its done, how to protect oneself from it and next steps.
Online Jobs fraud have become very rampant nowadays in India. Let's take a look at some of the latest news:
Delhi woman loses around ₹ 9 lakh in fake foreign job scam.
Gurugram woman loses ₹76 lakh in app-based movie rating scam
A person from Delhi cheated Rs 9.32 lakh on Instagram in the name of work from home job.
Fraud by extorting money from people luring them of jobs in government and reputed private companies.
All of these are frauds by online job scammers, who lure fresh out of college job seekers, part-time job seekers and young employees and extort money.
How Online Jobs fraud is carried out :-
Fraudsters post colorful ads on social media or job information sites about full-time, work-from-home or part-time jobs. Interested persons click on the hyperlink given by fraudsters or call the number mentioned there. Fraudsters first extort money in the name of registration, initially give small amount of money for simple tasks done by them or talk about mistakes they did or conduct fake interviews or show fake employment letter to gain their trust, then extort money from job seekers in the name of background check, bribe, processing fee etc.
'Earn money by liking videos' scam, where if you like every video they give you, they will pay you 1 rupee per like, then charge you for more videos or higher rates.
By the time you realize it's a scam, you've already transferred a lot of money to the scammer.
How you can protect yourself from Online Jobs fraud :-
Always follow the principle of 'Patience, Zero Trust and Authenticity' for all digital transactions.
Beware of offers from personal email addresses.
If the job offer is full of common spelling and grammar errors, then it may be a fraud offer.
Be wary of unbelievable salary offers.
Be careful if there are things like 'no job experience required' or 'no interview required'.
No reputed organization asks money from job aspirants in advance, so don't pay any advance fee to anyone.
Use Driving License or Voter ID instead of Aadhaar and PAN for verification of your name, age or address and do not share your Aadhaar and PAN card image with anyone.
If you have been scammed of Online Jobs fraud :-
Immediately call 1930 cyber helpline or file a complaint at cybercrime.gov.in. If you have shared Aadhaar with someone, lock your Aadhaar card at uidai.gov.in. Complain about the fake account or profile on the respective social media website and about the fake websites with its hosting service provider and ask them to block it. Call the concerned bank and lodge a complaint to freeze the funds.
Legal Remedies available :-
One can register a criminal case in cyber police station under :
section 419 (punishment for cheating by impersonation), 420 (cheating and dishonestly inducing delivery of property), 464 (make a false document or false electronic record) and 465(Punishment for forgery) of Indian Penal Code(IPC)
section 43 (Penalty and compensation for damage to computer, computer system, etc), section 66 (punishment for computer related offences – a person committing data theft, transmitting virus into a system, destroying data, hacking, or denying access to the computer or network to an authorized person is imprisoned for a maximum of 3 years or a fine of 5 lakh rupees or both), section 66C(which prescribes penalties for identity theft and states that anyone who fraudulently or dishonestly uses a person's identity information will be subject to imprisonment up to 3 years and a fine of up to 3 lakh rupees) and Section 66D (punishment for fraud by impersonation using computer resources) under of the Information Technology Act(IT) Act 2000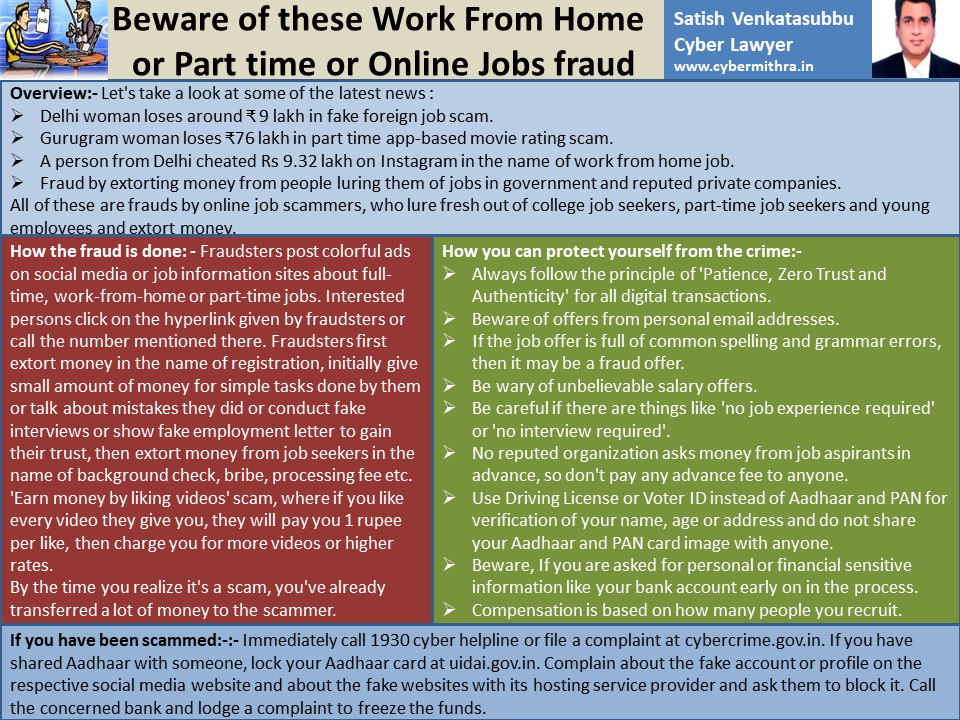 If you find this useful, please like it and share, also if you have any questions or topics you want me to cover please add them in the comments section. Also you can share one page poster covering the entire content with your friends and relatives in other social media.