Identity Theft – Protect yourself from identity thieves
This article talks about Identity Theft cybercrime,It explains – what it is, how it is carried out, what precautions you can take to prevent it and next steps with legal remedies if you are a victim of it
According to the National Crime Records Bureau (NCRB), our city of Bangalore is at the top in the country in the number of "Identity Theft" cyber crime cases. Cybercriminals steal your personal information like name, date of birth, Aadhaar, PAN number, bank account and credit card details and use this information to open new accounts, make purchases, take loans or credit cards in your name or commit other types of fraud. You are also responsible for any debts or charges the thief makes in your name. In addition to financial consequences, identity theft can damage your credit score (CIBIL) and social standing along with emotional and psychological consequences. Victims of identity theft may experience feelings of violation, anger, helplessness and frustration. The main types of identity theft are credit card/loan fraud, tax or benefits fraud, employment fraud and ATM skimming.
How the Identity Theft fraud works :-
Cyber thieves obtain your personal information by:
Sending an sms or social media message containing a link, clicking it infects your smartphone or computer with a virus or malware like a key logger, which sends all the letters you type using the keyboard to the thief. They can infect your computer through USB drives and memory cards.
When you send or share Aadhaar or PAN card photos or scanned or xerox copies to unknown people for verification.
Card skimming machines with cameras are embedded in ATM or card reading machines.
Create a fake website similar to your banking or online shopping website.
Thieves then use it to commit the aforementioned crimes.
How you can protect yourself from the Identity Theft fraud:-
Do not share the picture of your Aadhaar and PAN card with anyone, if you have to give then give the xerox copy in black and white and write the reason for which you are giving it with the date you gave.
Use Driving License or Voter ID instead of Aadhaar and PAN for verification of your name, age or address.
Check your CIBIL score and report, AIS report on incometax website and Aadhaar authentication history on aadhar website regularly for any unexpected transactions.
If you are suspicious of a website's URL or home page, immediately check carefully whether it is a genuine website and is secure (starts with https in the browser or has a lock stamp).
If you have double factor authentication on your bank, email and other main websites, implement it immediately.
Before using an ATM or card swiping machine, check if it has been tampered with.
Avoid opening any suspicious email or sms message, do not click on any hyper-link in such message and use antivirus and keep updating it.
If you have been scammed of Identity Theft fraud:-
Immediately call 1930 cyber helpline or file a complaint at cybercrime.gov.in. If you have shared aadhar, then lock your Aadhaar card at uidai.gov.in. File a complaint and take legal action against the bank that opened the account or gave the loan or credit card.
Legal remedies available to the victim :-
One can register a criminal case in cyber police station under
section 419 (punishment for cheating by impersonation) and 420 (cheating and dishonestly inducing delivery of property) of Indian Penal Code(IPC).
section 43 (Penalty and compensation for damage to computer, computer system, etc), section 65 (Tampering with computer source documents), section 66 (punishment for computer related offences – a person committing data theft, transmitting virus into a system, destroying data, hacking, or denying access to the computer or network to an authorized person is imprisoned for a maximum of 3 years or a fine of 5 lakh rupees or both), section 66A(Punishment for sending offensive messages through communication service.which prescribes penalties for identity theft and states that anyone who fraudulently or dishonestly uses a person's identity information will be subject to imprisonment up to 3 years and a fine of up to 3 lakh rupees) and Section 66D (punishment for fraud by impersonation using computer resources) under of the Information Technology Act(IT) Act 2000.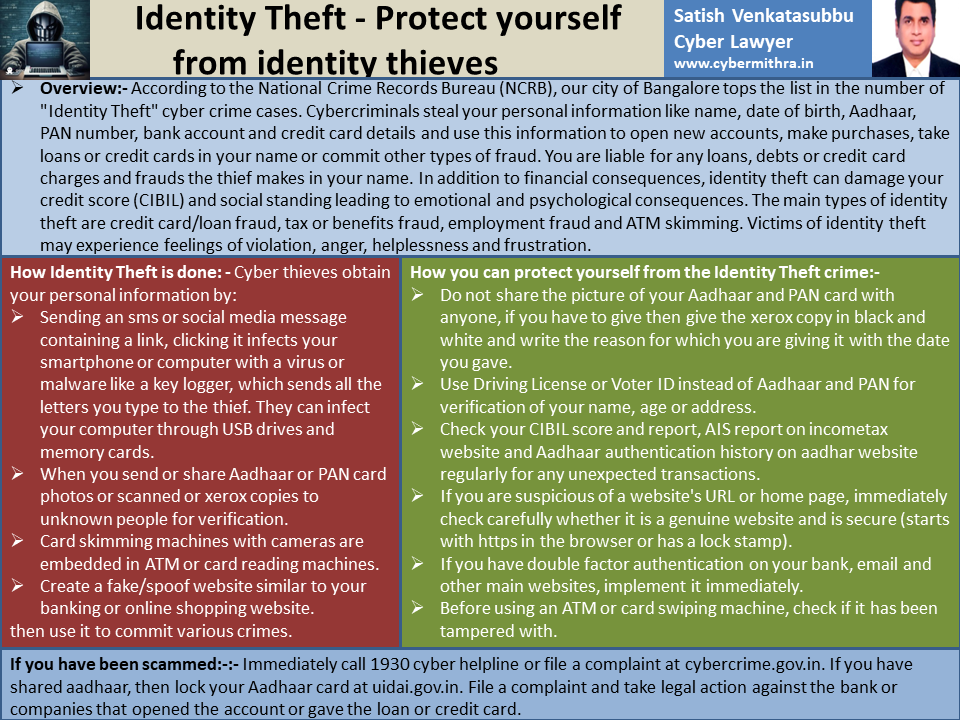 If you find this useful, please like it and share, also if you have any questions or topics you want me to cover please add them in the comments section. Also you can share one page poster covering the entire content with your friends and relatives in other social media.
You can find similar useful articles related to various cybercrimes at www.cybermithra.in website maintained by me in Kannada and English.
#share #socialmedia #like #cyber #IdentityTheft #cybercrimeawareness #cybermithra #legal #content #IdentityTheftCybercrime, #WebsiteSpoofing, #Spoofing