Beware of OLX scams or lose money
This article talks about common OLX scams, what is this fraud, how the scams are executed, how one can protect from it and what to do if one is a victim of such a fraud.
OLX Scams Background :-
The fourth edition of the OLX initiative, the OLX 2022 Safer Internet Day Study has revealed that over three-fourths of all respondents experienced at least one online fraud during the pandemic. Let's look at some recent news on OLX scam :
Delhi chief minister Arvind Kejriwal's daughter was recently a victim of an online scam, where she tried to sell an old sofa set on OLX but was duped of Rs 34,000 by an scammer.
Navi Mumbai: Nerul man seeking buyer to sell cupboard on OLX loses Rs 8 lakh to cyber fraudster who posed as an army personnel.
What is this OLX scam?
This scam is a classic case of QR code fraud discussed before, where the common people's innocence, greed, over confidence and negligence is used to fraud people. Fraudsters use direct shopping from owners websites like OLX, Quickr etc or even social media shopping websites like Facebook shopping to fraud people. Interesting part is fraudster can fraud you as buyer or as seller, but the way they fraud you is almost similar.
Fraudsters can go to various lengths, to hide their true identity and gain trust. Most of the times they impersonate Indian defense personnel, so that they can fool unsuspecting victims by gaining trust. They also force a scam on you by confusing you with various facts and events, hurry you up to make decisions, lure you or create a FOMO(fear of missing out) deal or use technology(like QR code) to cheat you etc and there by make you do irrational things leading you to loose money.
How the OLX scam is carried out :-
Fraudster as a SELLER :- Scammer signs up as sellers on OLX, gain trust by reusing content of actual sellers, only changing the listed price, to ridiculously low levels. Once a victim approaches, they trick the victim into disclosing private information like aadhaar, pan number or bank details and use this to fraud or they lure them to make pre-payment as advance or shipping charges etc and stop responding or keep asking more money claiming it to be Border entry charges, Toll charges, Service charges etc. until victim realizes he is being fraud.
Fraudster as a Buyer :- Fraudster impersonates as a defense person to gain trust and credibility, contacts the person who is trying to sell a product on OLX and Quikr. He goes through a conversation that seems legitimate to the victim. Once both the parties have agreed to a certain price, the fraudster claims that he cannot come personally and insists on paying via UPI. Now, the fraudster sends a fake screenshot to the seller purporting to show that the said amount has been transferred to the seller's Paytm account. However, the seller learns that they have not received any amount. He guides the victim through the process and sends a QR code, which he claims can be used for receiving the money. The victim falls for it, scans the QR code and enters the UPI Pin to pay the amount rather than receiving it.
Now, the victim panics a bit and asks the fraudster to refund the amount. This is the part where the fraudster gets another chance of getting more money out of the victim's pockets. He claims that this was a mistake and that now he is sending a QR code for twice the amount in order to account for the money that has been mistakenly debited from the victim's account. If the victim falls for it again, the fraudster ends up making thrice the money. These fraudsters repeat this exercise as many times as they can without getting caught. This way, the victim ends up losing thousands or even lakhs of rupees while trying to sell a product online on OLX or Quikr.
How you can protect yourself from OLX scam :-
Never scan QR code for receiving money.
Verify credentials of buyer/seller thoroughly before making or receiving payment.
Buyer/seller showing unreasonable hurry or urgency or showing ID cards of defense or of reputable government job is likely a fraudster.
Don't click on any link or scan a QR Code. You may lose money or catch a virus.
Avoid accepting or making advance payment. It may be a trap to defraud you.
Never share Aadhaar, pan number or bank details with strangers, share voter id or driving license only if its really needed.
Never accept cheque as it can bounce, if you take then insist that you will part with goods only when its realized.
If you are a victim of OLX scam :-
Immediately call 1930 cyber helpline or file a complaint at cybercrime.gov.in. If you have shared Aadhaar with someone, lock your Aadhaar card at uidai.gov.in. Complain about the fake account or profile on the respective social media website and about the fake websites with its hosting service provider and ask them to block it. Call the concerned bank and lodge a complaint to freeze the funds. If you have a doubt of malware/virus attack after scanning the QR code or pressing a hyperlink, format or factory reset the device.
Legal remedies available to OLX scam victims in India :-
One can register a criminal case in cyber police station under :
section 419 (punishment for cheating by impersonation), 420 (cheating and dishonestly inducing delivery of property), 464 (make a false document or false electronic record) and 465(Punishment for forgery) of Indian Penal Code(IPC).
section 43 (Penalty and compensation for damage to computer, computer system, etc), section 66 (punishment for computer related offences – a person committing data theft, transmitting virus into a system, destroying data, hacking, or denying access to the computer or network to an authorized person is imprisoned for a maximum of 3 years or a fine of 5 lakh rupees or both), section 66C(which prescribes penalties for identity theft and states that anyone who fraudulently or dishonestly uses a person's identity information will be subject to imprisonment up to 3 years and a fine of up to 3 lakh rupees) and Section 66D (punishment for fraud by impersonation using computer resources) under of the Information Technology Act(IT) Act 2000.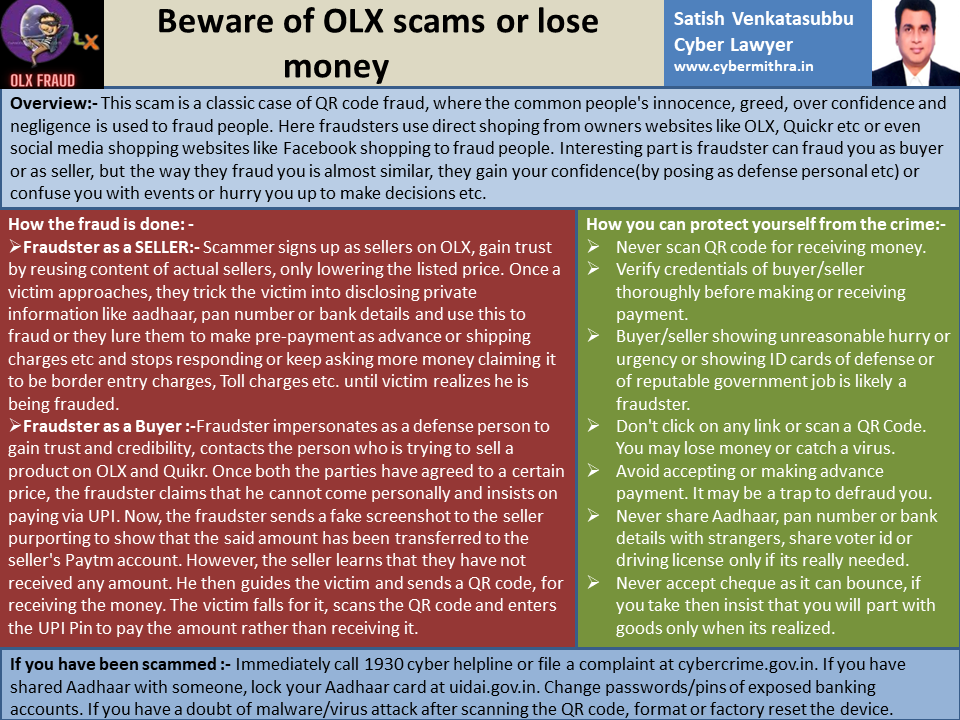 If you find this useful, please like it and share, also if you have any questions or topics you want me to cover please add them in the comments section. Also you can share one page poster covering the entire content with your friends and relatives in other social media.
Frequently Asked Questions :-
How do I report a scam to OLX support?
Report the scammer or the ad on the App or Web or write to OLX support at safety@olx.in or call OLX at 09999140999. 
How do I register a criminal case about a OLX scam?
You can file a complaint at any nearby normal or cyber police station or you can call 1930 cyber helpline number or file a complaint at cybercrime.gov.in.
Is it OK to share phone number on OLX?
No, never share any personal or financially sensitive information with strangers.